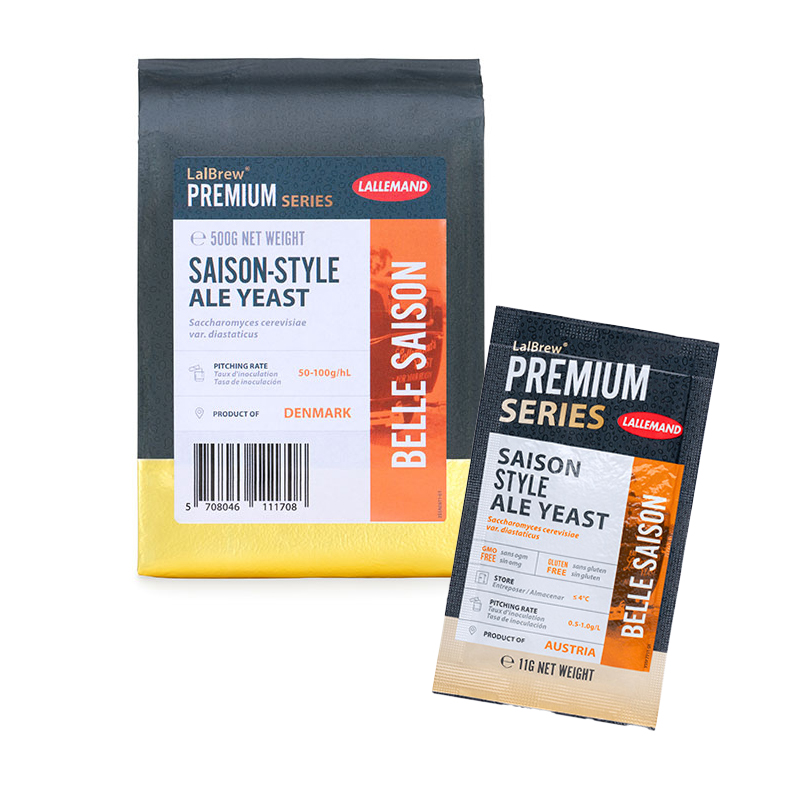 LalBrew Belle Saison™ 11g
4 weeks ago
Lallemand has announced that they will no longer produce LalBrew Belle Saison™ 11g sachets in the near future, but why? The product will still be available for now, while supplies last.
Before that, more about diastatic yeast strains
Special attention needs to be paid when using diastaticus yeast strains. If any dextrins are present in the finished product, the yeast may continue to ferment these sugars resulting in overcarbonation, higher alcohol content and altered flavor profile. Sanitation best practices must be followed to avoid cross contamination of diastaticus strains in the brewery.
As you are aware, this strain is classified as a Saccharomyces cerevisiae var. diastaticus, and therefore Lallemand treats it as if it were a wild yeast to prevent cross-contamination of their other products.
Why stop producing LalBrew Belle Saison™ 11g?
Recently, machinery utilized for the packaging of the 11g LalBrew Belle Saison™ sachets was reallocated to a new location. Lallemand has made the difficult decision to discontinue the pack size, rather than package it on the same line as the other LalBrew® yeasts. They believe that this decision aids in maintaining their high levels of quality assurance, which they promise our customers.
500 gram will still be available!
More about the beer style Saison
Saison is a beautiful beer style, extremely dependent and defined by the yeast strain used. Saison (French for "season") is a beer style originating from Wallonia, Belgium, originally produced to provide beer to workers during the farming season. Traditional Saison beers are refreshingly dry with notes of fruit and spice.
Alternatives for LalBrew Belle Saison™ 11g
Perhaps you enjoy brewing with LalBrew Belle Saison™. Lallemand understands that it can be very inconvenient that production of the 11-gram sachets will be discontinued. Therefore, they have written a 'Best Practices Saison Solutions'-Sheet to compare some alternative LalBrew® strains. These yeasts can be used to make Saison-style beers. To avoid potential cross-contamination, some brewers already choose to use other non-diastaticus yeast strains to produce "Saison-like" beers. In the document, you can read tips and tricks for controlling brewing and fermentation variables to achieve the flavors you desire.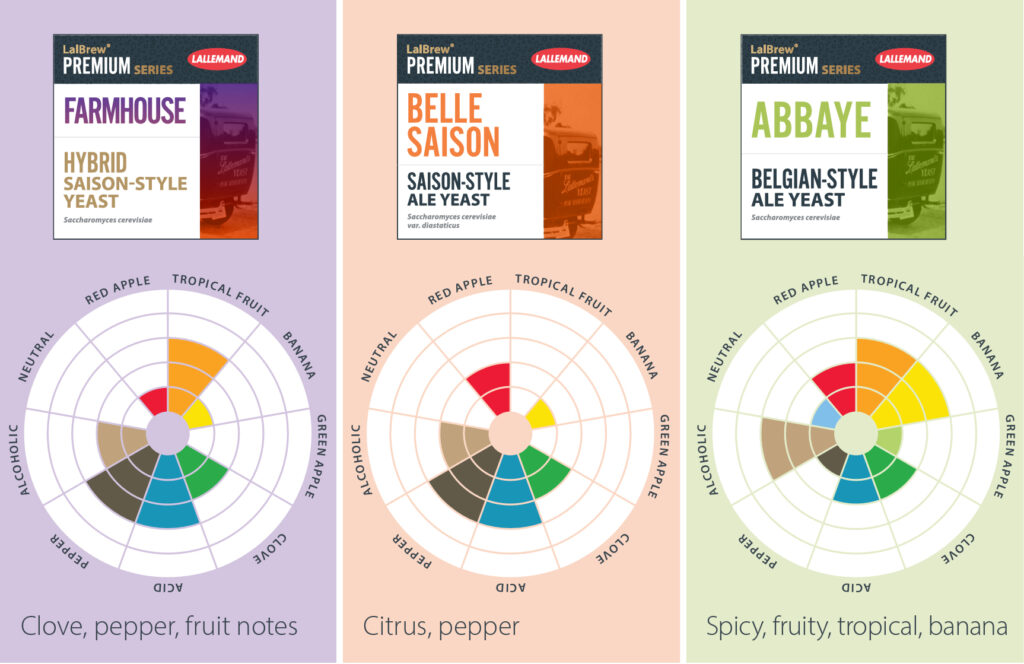 LalBrew yeasts and their aroma profile.
The 'Best Practices Saison Solutions'-Sheet include one of Lallemand recent innovations, LalBrew Farmhouse™ a hybrid Saison-style yeast capable of high attenuation without potential harmful effects that can come with an active STA-1 gene. Beer fermented with LalBrew Farmhouse™ presents flavor and aroma characteristics of traditional Saison beer styles without the over-attenuation and contamination risk of a diastaticus yeast. An other non-diastaticus yeast strain to produce "Saison-like" beers are the Abbaye ale strains (i.e.
LalBrew Abbaye™). Producing fruity esters and spicy phenols, but have lower attenuation than traditional Saison strains since they do not metabolize dextrins.
Yeasts
The yeasts in our selection are all dry yeasts from established producers. Not sure yet which yeast to use? View all our yeasts here.